Michael Russill
National Ranking:
7611
Twitter
BioGraphy: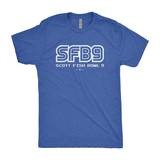 I am a dedicated fantasy football player of all types. I have been playing medium stakes fantasy for 25 years. Along with the evolution of fantasy, so have my interests gone. 100s of bestballs, redraft, guillotine, 25+ Dynasty Teams and lots of other fun leagues like the Scott FishBowl. The goal is to have fun in the game within the game and make some money.
Favorite Quote:
"
The pathway to fantasy dominance is hard work, intelligence, fantastic drafting, amazing weekly waivers....... and a crap load of luck!
"
2019 Leagues

Football Leagues

Slice Em N Dice Em Guillotine League
| | Team | RECORD | Post | FNPs |
| --- | --- | --- | --- | --- |
| | Shysty motherfu*** | -- | | 22 |

SafeLeagues Battle Royal 01
| | Team | RECORD | Post | FNPs |
| --- | --- | --- | --- | --- |
| | Michael Russill | 0-0-0 | 24 | 0 |
Total Football FN points: 22

BestballFantasy: RT @FFHitman: I had massive depression problems in high school, still have struggles even now. This is not just idiotic click-baity talk, t…

(9/10 9:6 PM)

BestballFantasy: RT @PlayAdoptMe: UNICORN BATTLE!! retweet for the normal unicorn to win ?? like for the evil unicorn to win ?? https://t.co/bgsvodHTGa

(9/2 12:25 PM)

BestballFantasy: @samjeffcoat Exactly. She works so hard and loves new subs lol. Future tech geeks

(8/31 2:46 AM)

BestballFantasy: @samjeffcoat She's ecstatic

(8/31 2:44 AM)

BestballFantasy: @samjeffcoat Thank you bro

(8/31 2:44 AM)
Sat, 9-19-2020 04:20

"I think that's one of the best ones I've probably had, probably put on tape."

Sat, 9-19-2020 03:05

The 49ers head East and hope to avoid an 0-2 start to the 2020 season.

Sat, 9-19-2020 02:17

After 31 months of construction, the Raiders are set to play their first game in Allegiant Stadium on Monday night.

Sat, 9-19-2020 02:13

The Atlanta Falcons will be without a key member of their cornerback rotation for the second week in a row after ruling Kendall Sheffield out of Sunday's game against the Dallas Cowboys. Sheffield is still recovering from a foot injury and wasn't able to practice all week. The Falcons also ruled out backup defensive end Charles Harris (ankle), while rookie defensive tackle Marlon Davidson (knee) was listed as doubtful.

Sat, 9-19-2020 02:12

Lambeau Field won't have fans for Sunday's home opener against the Lions. That won't keep running back Aaron Jones from doing the Lambeau Leap. Multiple times, he hopes. The Packers practiced at Lambeau Field on Friday to get a feel for how the stadium will look and sound during Sunday's game. The first eight rows [more]

Sat, 9-19-2020 01:58

For the second straight week, Eagles cornerback Darius Slay will honor his idol Kobe Bryant. By Danny Pommells

Sat, 9-19-2020 01:41

The Houston Texans were almost dead last in the NFL in pass block win rate in Week 1. They will have to improve against the Baltimore Ravens.

Sat, 9-19-2020 01:22

Houston Texans coach Bill O'Brien expects inside linebacker Zach Cunningham to have a better performance against the Baltimore Ravens.

Sat, 9-19-2020 01:05

Antonio Callaway will have to serve an extra four games in his suspension for violating the substance abuse policy, via multiple reports. The receiver originally was suspended 10 games in November 2019, and the Browns cut him Nov. 14. The Dolphins signed him to their practice squad Sept. 6, and Callaway currently is on the [more]

Sat, 9-19-2020 01:02

The Packers and David Bakhtiari are still nearly $4 million per year apart in contract negotiations, per ESPN.