Michael Russill
National Ranking:
7611
Twitter
BioGraphy: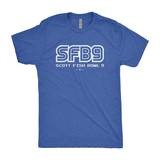 I am a dedicated fantasy football player of all types. I have been playing medium stakes fantasy for 25 years. Along with the evolution of fantasy, so have my interests gone. 100s of bestballs, redraft, guillotine, 25+ Dynasty Teams and lots of other fun leagues like the Scott FishBowl. The goal is to have fun in the game within the game and make some money.
Favorite Quote:
"
The pathway to fantasy dominance is hard work, intelligence, fantastic drafting, amazing weekly waivers....... and a crap load of luck!
"
2019 Leagues

Football Leagues

Slice Em N Dice Em Guillotine League
| | Team | RECORD | Post | FNPs |
| --- | --- | --- | --- | --- |
| | Shysty motherfu*** | -- | | 22 |

SafeLeagues Battle Royal 01
| | Team | RECORD | Post | FNPs |
| --- | --- | --- | --- | --- |
| | Michael Russill | 0-0-0 | 24 | 0 |
Total Football FN points: 22

BestballFantasy: Can we get a Gone in 60 Seconds rewatchables?

(3/27 1:1 AM)

BestballFantasy: @TheRewatchables

(3/27 1:1 AM)

BestballFantasy: @RyanMc23 The old Godwin, Josh Allen or Mike Evans connundrom. Imagine picking Allen....so hard to make that choice. Even SF

(3/24 1:0 AM)

BestballFantasy: @ScottFish24 What a about Canada?

(3/23 3:18 AM)

BestballFantasy: @RyanMc23 He dead

(3/21 5:31 AM)
Thu, 4-2-2020 19:49

Tom Brady has his backup.

Thu, 4-2-2020 19:23

The Green Bay Packers have signed wide receiver Devin Funchess as he tries to bounce back from an injury-shortened 2019 season. Funchess played for the Indianapolis Colts last year but went on injured reserve after breaking his collarbone in a season-opening 30-24 overtime loss to the Los Angeles Chargers. The 25-year-old Funchess spent his first four NFL seasons with the Carolina Panthers, who selected him out of Michigan in the second round of the 2015 draft.

Thu, 4-2-2020 19:20

The New Orleans Saints have agreed to bring back free agent cornerback P.J. Williams. General manager Mickey Loomis said Thursday the Saints were bringing Williams back, though terms of the new contract have not been released. Williams, who entered the NFL when the Saints selected him in the third round of the 2015 draft out of Florida State, played regularly as a nickel back and also filled in at cornerback last season.

Thu, 4-2-2020 19:19

The decision to cut all in-person visits will make evaluating players with off-field issues even trickier now. Will teams end up passing on the next Dak Prescott?

Thu, 4-2-2020 19:00

Pro Football Focus has the ex-Notre Dame defensive end as a first-round pick in its latest mock draft.

Thu, 4-2-2020 18:11

With less than a month before the 2020 NFL draft, Gators Territory continues to profile each of the Gators' draft hopefuls. Eight Florida players were selected to attend the NFL Combine this year, but one standout Gator didn't receive an invitation. Linebacker David Reese II led Florida's defense with 88 total tackles this past season and recorded 316 over his career.

Thu, 4-2-2020 17:47

The Buckeyes running back sat down with Yahoo Sports' Tank Williams to discuss his role at Ohio State, what he's looking to prove to NFL teams and who he models his game after.

Thu, 4-2-2020 17:36

Andy Reid is like most people these days. The Kansas City Chiefs coach is hunkered down in his basement, trying to avoid going out in public as he works from a makeshift office consisting of a computer, an iPad and an old side table.

Thu, 4-2-2020 16:47

Buccaneers QB Tom Brady appears to be embracing Tampa in all of its outlandish, unapologetic, wonderful glory — including a 30,000-square-foot mansion.

Thu, 4-2-2020 16:01

Making the Super Bowl will be much tougher for No. 2 seeds in a new playoff format.
1

Christian McCaffrey

RB

2

Ezekiel Elliott

RB

3

Chris Carson

RB

4

DeAndre Hopkins

WR

5

Michael Thomas

WR

6

Saquon Barkley

RB

7

Tyreek Hill

WR

8

Joe Mixon

RB

9

Derrick Henry

RB

10

Leonard Fournette

RB