Michael Russill
National Ranking:
7611
Twitter
BioGraphy: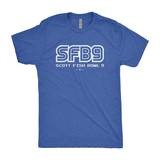 I am a dedicated fantasy football player of all types. I have been playing medium stakes fantasy for 25 years. Along with the evolution of fantasy, so have my interests gone. 100s of bestballs, redraft, guillotine, 25+ Dynasty Teams and lots of other fun leagues like the Scott FishBowl. The goal is to have fun in the game within the game and make some money.
Favorite Quote:
"
The pathway to fantasy dominance is hard work, intelligence, fantastic drafting, amazing weekly waivers....... and a crap load of luck!
"
2019 Leagues

Football Leagues

Slice Em N Dice Em Guillotine League
| | Team | RECORD | Post | FNPs |
| --- | --- | --- | --- | --- |
| | Shysty motherfu*** | -- | | 22 |

SafeLeagues Battle Royal 01
| | Team | RECORD | Post | FNPs |
| --- | --- | --- | --- | --- |
| | Michael Russill | 0-0-0 | 24 | 0 |
Total Football FN points: 22

BestballFantasy: @samjeffcoat @OthChe I was at least 22 9f those Jacob Harris!

(6/10 10:20 AM)

BestballFantasy: @Fantasy_Mansion I wish I saw this before my rookie drafts!

(5/7 12:28 AM)

BestballFantasy: @TACanevari I have way too many dynasty teams....bestball isn't the same....

(5/7 12:15 AM)

BestballFantasy: @TACanevari Yes yes yes please

(5/7 12:15 AM)

BestballFantasy: RT @SharpFootball: so in back-to-back years the Packers drafted a Rodgers replacement: 2020: a backup QB 2021: A. Rodgers

(5/1 2:40 AM)
Tue, 6-15-2021 07:16

The last two seasons haven't gone swimmingly for San Francisco 49ers receiver Mohamed Sanu. He's been a part of four different teams and had injuries contribute to a drop in production since his peak form with the Atlanta Falcons in 2018. However, back in San Francisco with a coaching staff he's very familiar with, 49ers [more]

Tue, 6-15-2021 05:22

The New England Patriots made several additions to their roster through free agency this offseason in an attempt to course-correct from a down season after the departure of Tom Brady. Matthew Slater, the longest-tenured member of the Patriots, is encouraged by the additions to the team this spring but knows that opening the checkbook isn't [more]

Tue, 6-15-2021 04:26

Four receivers from the University of Alabama have been selected inside the Top 15 of the NFL Draft in the last two years. Jaylen Waddle and Devonta Smith were both off the board by the tenth overall selection in this year's draft while Henry Ruggs III and Jerry Jeudy were the 12th and 15th overall [more]

Tue, 6-15-2021 03:09

Second-year cornerback Jaylon Johnson was dubbed the Bears' biggest X-factor in 2021.

Tue, 6-15-2021 03:00

San Francisco 49ers running backs coach Bobby Turner won a lifetime achievement award from the PFWA.

Tue, 6-15-2021 03:00

The Chicago Bears defensive line remains one of the most respected in the NFL, according to Pro Football Focus.

Tue, 6-15-2021 02:01

New England Patriots linebacker Dont'a Hightower is impressing Bill Belichick

Tue, 6-15-2021 01:53

The San Francisco 49ers made nine promotions and two new additions to their personnel department.

Tue, 6-15-2021 01:12

We're finally getting a look at QB Justin Fields wearing a Bears jersey - and it isn't photoshopped!

Tue, 6-15-2021 00:44

Justin Skule cleared waivers and returned to the San Francisco 49ers on Injured Reserve.