Michael Russill
National Ranking:
7611
Twitter
BioGraphy: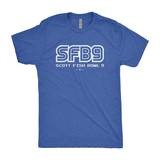 I am a dedicated fantasy football player of all types. I have been playing medium stakes fantasy for 25 years. Along with the evolution of fantasy, so have my interests gone. 100s of bestballs, redraft, guillotine, 25+ Dynasty Teams and lots of other fun leagues like the Scott FishBowl. The goal is to have fun in the game within the game and make some money.
Favorite Quote:
"
The pathway to fantasy dominance is hard work, intelligence, fantastic drafting, amazing weekly waivers....... and a crap load of luck!
"
2019 Leagues

Football Leagues

Slice Em N Dice Em Guillotine League
| | Team | RECORD | Post | FNPs |
| --- | --- | --- | --- | --- |
| | Shysty motherfu*** | -- | | 22 |

SafeLeagues Battle Royal 01
| | Team | RECORD | Post | FNPs |
| --- | --- | --- | --- | --- |
| | Michael Russill | 0-0-0 | 24 | 0 |
Total Football FN points: 22

BestballFantasy: @ryenarussillo I'm for it. The team wants the record, the offensive line wants the record. The players want it.… https://t.co/zLarHvPss8

(10/3 11:32 PM)

BestballFantasy: RT @SharpFootball: 46 ?? https://t.co/7DDP3TwNZY

(10/1 12:35 AM)

BestballFantasy: RT @FantasyPros: We're raising funds for the Tagliere family. If you'd like to consider helping, please visit the link below for more infor…

(9/25 8:2 PM)

BestballFantasy: RT @RapSheet: Lattimore is now considered week-to-week. What a crazy day for him

(9/13 1:34 AM)

BestballFantasy: @samjeffcoat @OthChe I was at least 22 9f those Jacob Harris!

(6/10 10:20 AM)
Fri, 12-2-2022 04:59

The Buffalo Bills dominated the New England Patriots at Gillette Stadium on Thursday night. Here are the winners and losers from the AFC East tilt.

Fri, 12-2-2022 04:57

The Patriots are still no match for the Bills.

Fri, 12-2-2022 04:41

Watch all of Buffalo Bills quarterback Josh Allen's best plays from his 243-yard game in Week 13 of the 2022 NFL season.

Fri, 12-2-2022 04:41

The Ravens release the second injury report in preparation for Week 13 against the Broncos

Fri, 12-2-2022 04:40

Watch every catch made by Buffalo Bills wide receiver Stefon Diggs from his 92-yard game in Week 13 of the 2022 NFL season.

Fri, 12-2-2022 04:37

Watch all of the highlights from the matchup between the Buffalo Bills and New England Patriots in Week 13 of the 2022 NFL season.

Fri, 12-2-2022 04:35

FOXBOROUGH, Mass. (AP) Josh Allen threw two touchdown passes and the Buffalo Bills beat the New England Patriots 24-10 on Thursday night for their first AFC East victory of the season. Devin Singletary had a 1-yard touchdown run to help the Bills (9-3) win their third straight and take a half-game lead in the division over Miami. Buffalo had been 0-2 against division foes.

Fri, 12-2-2022 04:32

The Patriots were once again outclassed by the Bills Thursday night at Gillette. A humbling 24-10 thumping has them having to answer hard questions, forget where they stand in the playoff hunt in the AFC.

Fri, 12-2-2022 04:28

Instant analysis: #Bills make easy work of #Patriots in Week 13 victory (via @jdiloro):

Fri, 12-2-2022 04:19

The Houston Texans released their second injury report of Week 13 and G Kenyon Green was downgraded.