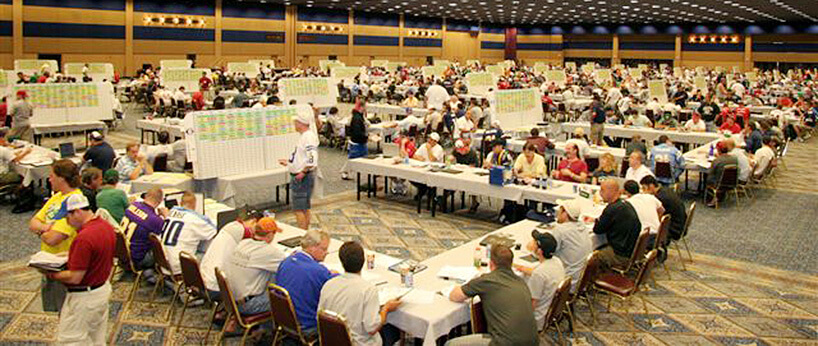 Register Your League
Get your fantasy skills ranked NATIONALLY! Register your leagues and your cumulative results will be ranked with all of Fantasy Nation. You can register all of your previous years' leagues also.
Fri, 24-05-2019 20:02

Adam "Pacman" Jones is bringing down the curtain on a 12-year NFL career marked by sometimes brilliant defensive play and off-field strife and suspensions, announcing his retirement in an Instagram post. "I stand tall & proud as announce, that this beautiful life changing ride that I

Fri, 24-05-2019 19:46

He's lucky Matthew "White Lightning" Boling isn't allowed to participate.

Fri, 24-05-2019 19:44

Adam 'Pacman' Jones says he has had "one hell of a run" but does not feel he can do himself justice at the highest level.

Fri, 24-05-2019 19:18

Randall Cobb didn't say it in front of the media, and he didn't say it to Cowboys coach Jason Garrett. But Cobb used the same words Earl Thomas did when Cobb ran into Cowboys quarterback Dak Prescott at NFL Honors in February: Come get me. "Yeah, he said that," Prescott said. "

Fri, 24-05-2019 17:11

Adam "Pacman" Jones has long been one of the NFL's most infamous players. After a long and tumultuous career, Adam "Pacman" Jones is finally calling it quits. Jones announced his retirement from the NFL on Instagram, where he posted a picture his retirement of a Bentley from a friend.

Fri, 24-05-2019 17:00

Happy Memorial Day weekend everyone! Hope y'all can enjoy the time off with family and friends, while eating everything in sight. Before you hit the water this weekend, check out my mailbag! As a reminder, if you have a question for next time, you can DM me on Twitter or Instagram. Is there such

Fri, 24-05-2019 16:41

Researchers studied death rates and causes of death in baseball and football players.

Fri, 24-05-2019 15:42

Caption Close The Texans' one-year contract for veteran running back and kick returner Taiwan Jones is worth $1.02 million, according to NFL Players Association figures. That includes a $930,000 base salary with a $45,000 signing bonus, and a $45,000 roster bonus. Jones' salary cap figure is

Fri, 24-05-2019 15:30

The 2019 NFL season represents the complete changing of the guard at tight end. Two future Hall of Famers, Rob Gronkowski and Antonio Gates, have left the game, and another, Jason Witten, is back for brief respite. Now the best at the position is represented by young rising stars, some established pass-catchers

Fri, 24-05-2019 13:06

Could the NFL Draft be coming to Boston in the next three years?
1

Saquon Barkley

RB

2

DeAndre Hopkins

WR

3

Christian McCaffrey

RB

4

Ezekiel Elliott

RB

5

Davante Adams

WR

6

Alvin Kamara

RB

7

James Conner

RB

8

Julio Jones

WR

9

Le'Veon Bell

RB

10

Michael Thomas

WR