Dennis Esser
Monroe Township, New Jersey
National Ranking:
Not Yet Ranked
Twitter
BioGraphy: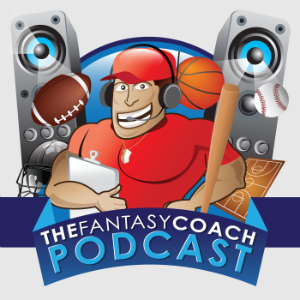 Dennis Esser- I go by Coach Esser as I'm a former football and wrestling coach who made the brave decision to stay home with our triplet girls when my wife and I had to make a tough choice. Missing the constant banter and tactics involved with coaching I chose to start a website and podcast covering fantasy sports of all kinds. While the podcast is on hiatus, my site will be back this season to help my friends and followers for the fantasy football season. I'm proud to be a top ranker in multiple sports and love playing against my fellow fantasy pundits, whether it's in Scott Fishbowl or in the Flex Leagues.
Favorite Quote:
"
Trust the process and have fun at all times. Never tweet a player with complaints and always give some winnings to charity.
"
coachesser: @letitride712 @GWBuffalo7 That is brutal. I hate when they squabble over that crap.

(10/14 11:34 PM)

coachesser: @GWBuffalo7 Oh they just said he is hurt

(10/14 11:29 PM)

coachesser: @GWBuffalo7 How do you feel about it?

(10/14 11:29 PM)

coachesser: What do we think about Blais sitting tonight? #NYR

(10/14 11:18 PM)

coachesser: Digging the new Mastodon song. https://t.co/ozxn02WGc8

(10/14 10:17 PM)
Tue, 5-17-2022 15:57

While the NFL's probe into Deshaun Watson could be wrapping up, it might be some time before a decision on the Browns QB's potential discipline.

Tue, 5-17-2022 15:56

Smith, one of the Cardinals' 5 Day 3 draft picks, played left guard in college but got reps at center in rookie minicamp.

Tue, 5-17-2022 15:53

Raiders EDGE Maxx Crosby named among the best players in the NFL under the age of 25

Tue, 5-17-2022 15:50

See for yourself what makes Notre Dame tight end Michael Mayer one of the top prospects in the 2023 NFL draft

Tue, 5-17-2022 15:48

Hopefully the world is ready for more MNF in 2023.

Tue, 5-17-2022 15:45

PFF has identified #Chiefs C Creed Humphrey as one of the 25 best NFL players under the age of 25.

Tue, 5-17-2022 15:35

The Bears have made a couple of roster moves with the start of OTAs, signing OL Shon Coleman and releasing P Ryan Winslow.

Tue, 5-17-2022 15:31

Vince Wilfork is the newest member of the Patriots Hall of Fame. Wilfork was initially one of three nominees chosen by a panel of media, team staff and former Patriots, who also nominated Logan Mankins and Mike Vrabel. Fans then chose Wilfork over Mankins and Vrabel as the newest member of the team's Hall of [more]

Tue, 5-17-2022 15:31

Whatever the NFL does when it comes to Deshaun Watson, it presumably needs to get it done before Week One. Step one, the reported meeting with Watson that will happen this week. Step two, under the league's new procedure as of 2020, the NFL proposes a punishment, if any. Step three, the Disciplinary Officer investigates, [more]

Tue, 5-17-2022 15:30

However, there's good reason to believe they can pull off an upset.