Larry Monkey
Springfield, New Jersey
National Ranking:
Not Yet Ranked
Facebook
Twitter
Website:
Dynasty Hot Sauce Podcast
BioGraphy: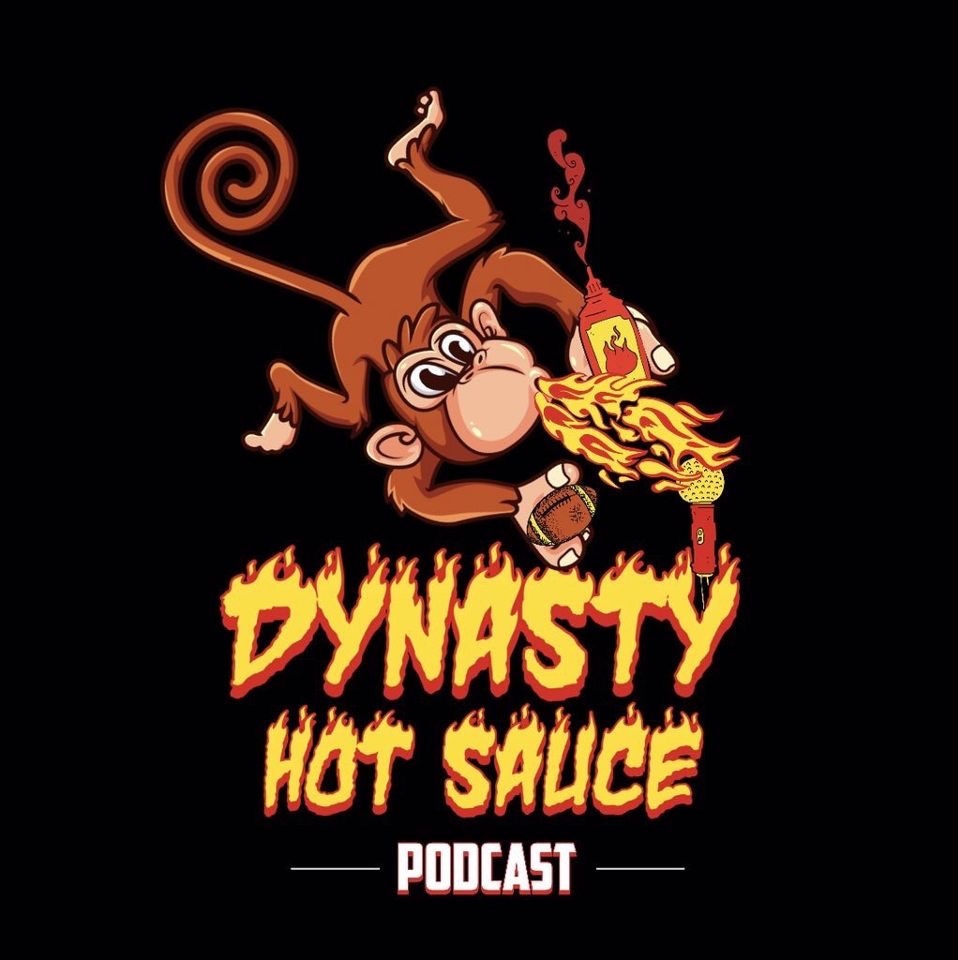 Larry Monkey Wins Titles. 25 year Fantasy player that has seen it all. LarryMonkey ranks and sometimes writes. Dynasty HotSauce is a Dynasty Fantasy Football podcast hosted by LarryMonkey, Justin Rogers and friend's discussing strategy, player value and other hot & spicy takes! While primarily focusing on the Dynasty format, we get into all Fantasy Football formats during any given show. Give us a listen and if you like what you hear, please support the show by giving us a Rate/Review/Subscribe!
Favorite Quote:
"
Alright, Alright, Alright!
"
2021 Leagues

Football Leagues

Little League Football
| | Team | RECORD | Post | FNPs |
| --- | --- | --- | --- | --- |
| | Super Grover | 5-2-0 | | 444 |

#SFB11 Conference 6
| | Team | RECORD | Post | FNPs |
| --- | --- | --- | --- | --- |
| | Dynasty HotSauce Pod - La... | 5-2-0 | | 404 |

Big League Football
| | Team | RECORD | Post | FNPs |
| --- | --- | --- | --- | --- |
| | #ImWithKap | 4-3-0 | | 390 |

zzz #FCEliminator 2021 Kate Magdziuk
| | Team | RECORD | Post | FNPs |
| --- | --- | --- | --- | --- |
| | LarryMonkey (@Fflarrymonk... | -- | | |

zzz #FCEliminator 2021 Liz Loza
| | Team | RECORD | Post | FNPs |
| --- | --- | --- | --- | --- |
| | LarryMonkey (@Fflarrymonk... | -- | | |
Total Football FN points: 1238

ffLarryMonkey: @NBCNews https://t.co/sUMSQ1A3lW

(10/14 8:45 PM)

ffLarryMonkey: Check out the latest @DynastyHotSauce Podcast!!! https://t.co/MBfzkn9La8 on #Podbean

(10/14 6:52 PM)

ffLarryMonkey: RT @DynastyHotSauce: When Jeudy & Sutton are both on the field who will have more fantasy points? @RunDFF @ffLarryMonkey @MyFantasyLeague

(10/14 5:49 PM)

ffLarryMonkey: @joewandy13 @thekaceykasem I was 4th row for this Jones beach show

(10/14 5:35 PM)

ffLarryMonkey: @thekaceykasem The Black Crowes https://t.co/73U54yIM2O

(10/14 3:34 PM)
Sun, 5-22-2022 22:00

The reported contract details of the Ravens' deal with defensive lineman Brent Urban have been released

Sun, 5-22-2022 21:05

He's allowing a 42.2 passer rating over the last two seasons.

Sun, 5-22-2022 19:23

Heading into the 2022 season, former Sooners OL Trent Williams listed on NFL's All-Paid team.

Sun, 5-22-2022 18:45

Terrell Owens caught a pair of two-point conversions as the Knights of Degen set a Fan Controlled Football record for points in a game.

Sun, 5-22-2022 18:38

Ranking every game on the New Orleans Saints' 2022 schedule, from easiest to toughest, via @DillySanders:

Sun, 5-22-2022 18:13

The Browns and Jadeveon Clowney have agreed to contract terms

Sun, 5-22-2022 17:57

John Metchie and Dameon Pierce looked sharp in their Houston Texans uniforms at the NFL rookie symposium.

Sun, 5-22-2022 17:44

Our weekly roundup of AFC West stories with news on the #Broncos, #Chargers and #Raiders. | from @WesleyRoesch

Sun, 5-22-2022 17:31

Myles Garrett wanted Jadeveon Clowney back, and the Cleveland Browns have agreed to re-sign Clowney for one year.

Sun, 5-22-2022 17:10

The average price of a Rams home game is fourth-highest in the NFL, showing how in-demand those tickets are