Rich Piazza
Merrick, New York
National Ranking:
Not Yet Ranked
Facebook
Twitter
Website:
FantasyShed
BioGraphy: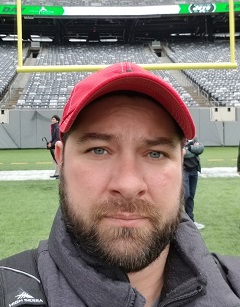 Calling upon his success in the fantasy football field and his passion for all things football, Rich launched Fantasyshed.com in 2014. Rich is a current contributing writer, analyst and part of the Expert Consensus Rankings to Fantasypros.com. Providing quantitative analysis for weekly rankings, projections, player stats, waiver wire and much more, he is a resource for everything you need to win your league.
Favorite Quote:
"
"Heroes get remembered. but legends never die" - Babe Ruth
"
FantasyShed_com: @BallBlastEm Love the take.. though I can see the top 3 but not the bottom 3.

(9/5 2:33 AM)

FantasyShed_com: @AskTheFFC Oh gotcha. Think I misread or interpreted initial tweet!

(9/5 2:30 AM)

FantasyShed_com: @AskTheFFC Gallman is better than Ollison and a much better pass blocker...that's why the move was made imo

(9/5 2:20 AM)

FantasyShed_com: @AskTheFFC Idk man...Gallman is good, but I don't see how he'll take over the job unless Davis totally bombs. The F… https://t.co/29dSKbsszu

(9/5 2:19 AM)

FantasyShed_com: @joeybagovdonuts https://t.co/quvsOCQXwc

(9/5 12:7 AM)
Sat, 9-24-2022 18:09

Kyle Shanahan called Jimmy Garoppolo 'one of the better throwers on this planet.' FIND THE LIE.

Sat, 9-24-2022 18:02

A move to compensate for the injury to Germaine Pratt.

Sat, 9-24-2022 18:00

ESPN ranks the Falcons as the least likely to turn things around out of the NFL's five 0-2 teams.

Sat, 9-24-2022 17:53

The Packers elevated WR Juwann Winfree from the practice squad to the gameday roster for Week 3 against the Buccaneers.

Sat, 9-24-2022 17:46

The #Browns' defense was dominant, but Garrett was held in check against the #Steelers

Sat, 9-24-2022 17:44

GREEN BAY, Wis. (AP) Green Bay Packers wide receiver Sammy Watkins has been placed on injured reserve, meaning he must miss at least the next four games. The Packers (1-1) announced the move Saturday, one day before they play at Tampa Bay (2-0). Watkins has six catches for a team-high 111 yards through the first two games of the season.

Sat, 9-24-2022 17:42

With a roster spot available, the Packers signed RB Patrick Taylor to the 53-man roster on Saturday.

Sat, 9-24-2022 17:26

Packers WR Sammy Watkins (hamstring) will miss at least the next four games after being placed on injured reserve on Saturday.

Sat, 9-24-2022 17:25

The Packers will be without receiver Sammy Watkins for at least four weeks. Green Bay announced on Saturday that the club has placed Watkins on injured reserve. Watkins is dealing with a hamstring injury. He was a limited participant in Wednesday's practice but didn't participate on Thursday or Friday and was ruled out for the [more]

Sat, 9-24-2022 17:22

Favre has not been charged with a crime, but texts messages from he and former Mississippi governor confirmed Favre knew where the money came from.