Rich Piazza
Merrick, New York
National Ranking:
Not Yet Ranked
Facebook
Twitter
Website:
FantasyShed
BioGraphy: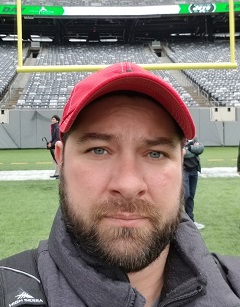 Calling upon his success in the fantasy football field and his passion for all things football, Rich launched Fantasyshed.com in 2014. Rich is a current contributing writer, analyst and part of the Expert Consensus Rankings to Fantasypros.com. Providing quantitative analysis for weekly rankings, projections, player stats, waiver wire and much more, he is a resource for everything you need to win your league.
Favorite Quote:
"
"Heroes get remembered. but legends never die" - Babe Ruth
"
FantasyShed_com: @BallBlastEm Love the take.. though I can see the top 3 but not the bottom 3.

(9/5 2:33 AM)

FantasyShed_com: @AskTheFFC Oh gotcha. Think I misread or interpreted initial tweet!

(9/5 2:30 AM)

FantasyShed_com: @AskTheFFC Gallman is better than Ollison and a much better pass blocker...that's why the move was made imo

(9/5 2:20 AM)

FantasyShed_com: @AskTheFFC Idk man...Gallman is good, but I don't see how he'll take over the job unless Davis totally bombs. The F… https://t.co/29dSKbsszu

(9/5 2:19 AM)

FantasyShed_com: @joeybagovdonuts https://t.co/quvsOCQXwc

(9/5 12:7 AM)
Mon, 12-6-2021 01:03

Tom Brady threw four touchdown passes and Chris Godwin set a franchise record with 15 receptions in the Buccaneers' win over the Falcons.

Mon, 12-6-2021 00:52

A look at some of the best photos from the Week 13 matchup between the Seattle Seahawks and the San Francisco 49ers at Lumen Field.

Mon, 12-6-2021 00:49

The Steelers vaulted past the Ravens in thanks to two fourth-quarter touchdowns, but it was a failed two-point conversion attempt that sealed the win.

Mon, 12-6-2021 00:48

Detroit Lions win first game of season with an 11-yard TD pass on fourth down from Jared Goff to rookie Amon St. Brown to beat Minnesota Vikings

Mon, 12-6-2021 00:45

Here are eight takeaways from one of the strangest games in recent memory.

Mon, 12-6-2021 00:45

Joe Burrow's finger was massive.

Mon, 12-6-2021 00:43

Steelers beat the Ravens 20-19.

Mon, 12-6-2021 00:41

Cooper Kupp has etched his name in the Rams record books a few times this season, doing so again on Sunday.

Mon, 12-6-2021 00:40

Observations from a bad #49ers loss to the Seahawks.

Mon, 12-6-2021 00:40

5 takeaways from the Colts' 31-0 win over the Texans in Week 13.