Rich Piazza
Merrick, New York
National Ranking:
Not Yet Ranked
Facebook
Twitter
Website:
FantasyShed
BioGraphy: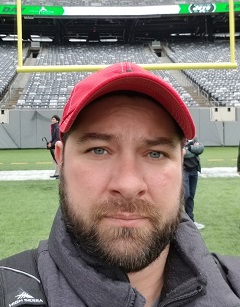 Calling upon his success in the fantasy football field and his passion for all things football, Rich launched Fantasyshed.com in 2014. Rich is a current contributing writer, analyst and part of the Expert Consensus Rankings to Fantasypros.com. Providing quantitative analysis for weekly rankings, projections, player stats, waiver wire and much more, he is a resource for everything you need to win your league.
Favorite Quote:
"
"Heroes get remembered. but legends never die" - Babe Ruth
"
FantasyShed_com: @SportsandStuf19 @tbrandsports101 ?? ??

(4/14 4:3 PM)

FantasyShed_com: RT @SportsbeatNy: Update: It's been over a week since our last show...We will be back REALLY SOON...A bad Covid case to family member has c…

(4/14 10:20 AM)

FantasyShed_com: Good morning... Another day and I'm still not buying Mac Jones going #3 to #SF. I'd rather be wrong than believin… https://t.co/X8m3bPxvmm

(4/14 10:18 AM)

FantasyShed_com: @AnandMurthiMD @BrandonTierney @TikiAndTierney I can do this all day...the competition argument is weak. Not only i… https://t.co/l4XBV76rmN

(4/14 10:5 AM)

FantasyShed_com: @JakeAsman Brutal.. embarrassing

(4/14 1:55 AM)
Wed, 4-14-2021 18:00

The Giants parted ways with a defensive back on Wednesday. Cornerback Ryan Lewis has been waived after spending one year with the team. Lewis signed to the Giants practice squad last September and moved to the active roster later that month. He appeared in five games and made three starts before going on injured reserve [more]

Wed, 4-14-2021 18:00

Americans have received more than 192 million COVID-19 shots, and more than 2 million of those shots have been administered at NFL facilities. The league announced today that it has surpassed the 2 million doses milestone at teams' stadiums and practice facilities. Early this year, the NFL and all 32 teams committed to making their [more]

Wed, 4-14-2021 17:56

With the 2021 NFL draft a few weeks away, Matt Harmon analyzes which teams will be looking to select a wide receiver when they're on the clock.

Wed, 4-14-2021 17:51

The draft profile for Alabama DL Christian Barmore, a potential pick for the Packers in the 2021 NFL draft.

Wed, 4-14-2021 17:43

Jadeveon Clowney's signing is the big news of the day for the Browns, but it isn't the only transaction the team announced on Wednesday. They also announced that they have re-signed tight end Stephen Carlson and defensive tackle Sheldon Day. Carlson signed the exclusive rights free agent tender the team applied last month. He played [more]

Wed, 4-14-2021 17:32

Former Seattle Seahawks defensive end Jadeveon Clowney has signed with the Cleveland Browns ahead of the 2021 season.

Wed, 4-14-2021 17:31

NFL Network's Mike Silver, Steve Wyche list the biggest offseason changes for Seattle Seahawks. This game is streaming live on the Yahoo Sports mobile app, or on NFL Network

Wed, 4-14-2021 17:31

Another member of the Buccaneers' Super Bowl champions has signed on for another year in Tampa. According to multiple reports, the Bucs have re-signed defensive tackle Steve McLendon. It's a one-year deal for McLendon, who came to the team in a trade with the Jets during the season. McLendon appeared in nine games during the [more]

Wed, 4-14-2021 17:29

Instant reaction to the Browns signing DE Jadeveon Clowney

Wed, 4-14-2021 17:27

The Pro Football Hall of Fame is sharing some draft-related content ahead of the 2021 NFL draft.