Timothy Petropoulos
Astoria, New York
National Ranking:
Not Yet Ranked
Facebook
Twitter
BioGraphy: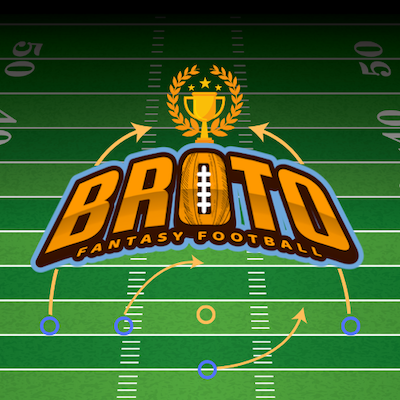 Tim is 1/3 of the brother trio that is BRotoFantasy.com. BRoto is an all encompassing, year-round fantasy website that includes podcasts, rankings, waivers, video, and the exclusive True Value stat (only available on the website) which quanitfies the value of a throw and target. With over 30+ combined years of fantasy domination, BRoto has helped hundreds of people, whether just starting out or experienced players, win championships. #InBRotoWeTrust
Favorite Quote:
"
BRotoFantasy.com, but only if you like winning. #InBRotoWeTrust
"
BRotoFantasy: Travis Kelce 10 yard TD!

(9/20 9:14 PM)

BRotoFantasy: Darren Fells 10 yard TD!

(9/20 9:12 PM)

BRotoFantasy: Lamar Jackson hits Patrick Ricard for a 1 yard TD!

(9/20 9:1 PM)

BRotoFantasy: Shoutout to everyone who decided Benny Snell was better than James Conner lol

(9/20 8:59 PM)

BRotoFantasy: So the Chargers paid Ekeler to run, Kelley. Cool.

(9/20 8:52 PM)
Sun, 9-20-2020 20:11

Detroit Lions lose 8th straight NFC North divisional game, drilled by Aaron Rodgers, Aaron Jones and the Green Bay Packers, 42-21

Sun, 9-20-2020 20:08

Trubisky was hot early, but the Bears had to sweat it out until the final play.

Sun, 9-20-2020 20:08

Even before the Detroit Lions took the field on Sunday in Green Bay, Fox NFL analyst Terry Bradshaw had some sharp criticism.

Sun, 9-20-2020 20:08

It's your turn to grade the Detroit Lions after their 42-21 loss to the Green Bay Packers on Sunday at Lambeau Field.

Sun, 9-20-2020 20:03

Running Back Saquon Barkley injures his right knee in the 2nd quarter against the Chicago Bears.

Sun, 9-20-2020 19:47

The 49ers got their first win of the season against the Jets on Sunday afternoon, but it came at a heavy price. Defensive end Nick Bosa and defensive tackle Solomon Thomas were both carted off with knee injuries in the first half while quarterback Jimmy Garoppolo was hobbling around the field with a right ankle [more]

Sun, 9-20-2020 19:47

Ben Roethlisberger missed most of last season with an elbow injury to his throwing arm. That arm looked healed on his second TD pass.

Sun, 9-20-2020 19:44

Two Patriots wide receivers will be out for Sunday's game against Seattle.

Sun, 9-20-2020 19:41

The Eagles lost again, so here's an immediate look at some hot takeaways from the loss. By Adam Hermann

Sun, 9-20-2020 19:37

Kirk Cousins' performance against the Colts is likely one he will want to forget quickly.