Timothy Petropoulos
Astoria, New York
National Ranking:
Not Yet Ranked
Facebook
Twitter
BioGraphy: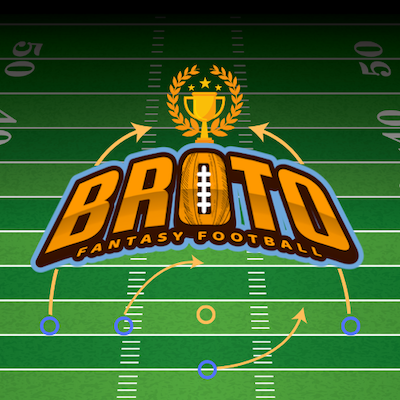 Tim is 1/3 of the brother trio that is BRotoFantasy.com. BRoto is an all encompassing, year-round fantasy website that includes podcasts, rankings, waivers, video, and the exclusive True Value stat (only available on the website) which quanitfies the value of a throw and target. With over 30+ combined years of fantasy domination, BRoto has helped hundreds of people, whether just starting out or experienced players, win championships. #InBRotoWeTrust
Favorite Quote:
"
BRotoFantasy.com, but only if you like winning. #InBRotoWeTrust
"
BRotoFantasy: RT @BRotoFFMike: The bottom of the barrel in True Throw Value thus far. Rookie QBs are STRUGGLING! Also this is what we mean when we say ta…

(10/14 10:6 PM)

BRotoFantasy: @griffy__boi Jamaal would be third in the pecking order

(10/14 9:53 PM)

BRotoFantasy: The @UnderdogFantasy slip that @BRotoFFJason is rolling with tonight! Use promo code BROTOFANTASY for a free $10… https://t.co/amzJXn6Kvb

(10/14 9:16 PM)

BRotoFantasy: @griffy__boi I'm still sticking with Darrel - Jay

(10/14 9:11 PM)

BRotoFantasy: DWill to the Covid IR ?? Khalil Herbert could be in line for a whole lot of touches this weekend

(10/14 7:59 PM)
Thu, 12-8-2022 08:20

Jalen Hurts and the 11-1 Eagles keep rolling versus the reeling Giants.

Thu, 12-8-2022 08:02

It's Stat Nerd Thursday! That means that Matt Harmon is joined by Dalton Del Don to provide you with one stat for all 32 NFL teams that will make you a smarter fantasy football manager.

Thu, 12-8-2022 08:01

NBC Sports' Chris Simms believes that Nick Bosa is "in the lead" over Micah Parsons for defensive player of the year.

Thu, 12-8-2022 08:00

The Steelers have five games left and still have a shot at the playoffs.

Thu, 12-8-2022 07:30

Several Steelers starters missed practice on Wednesday.

Thu, 12-8-2022 06:55

#Bills vs. #Jets: 7 things to watch for during Week 14's game:

Thu, 12-8-2022 05:32

This guy knows a thing or two about being an underdog quarterback...

Thu, 12-8-2022 04:50

Baltimore Ravens backup quarterback talks about being blessed to be a Baltimore Raven.

Thu, 12-8-2022 04:42

Tampa Bay Buccaneers rookies Rachaad White and Cade Otton keep proving that Tom Brady can trust them when the game's on the line

Thu, 12-8-2022 04:08

Tyreek Hill was a Chargers nemesis as a member of the Chiefs, and his NFL success has not changed as a member of the Dolphins, who come to SoFi Stadium on Sunday.