Timothy Petropoulos
Astoria, New York
National Ranking:
Not Yet Ranked
Facebook
Twitter
BioGraphy: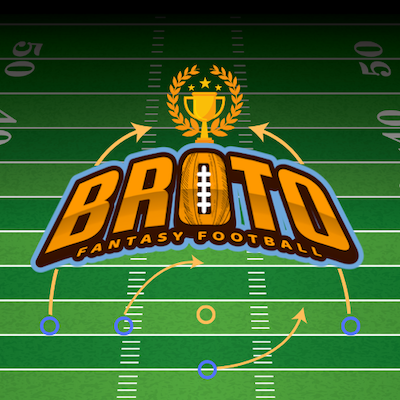 Tim is 1/3 of the brother trio that is BRotoFantasy.com. BRoto is an all encompassing, year-round fantasy website that includes podcasts, rankings, waivers, video, and the exclusive True Value stat (only available on the website) which quanitfies the value of a throw and target. With over 30+ combined years of fantasy domination, BRoto has helped hundreds of people, whether just starting out or experienced players, win championships. #InBRotoWeTrust
Favorite Quote:
"
BRotoFantasy.com, but only if you like winning. #InBRotoWeTrust
"
BRotoFantasy: In 2004 Laveranues Coles saw 168 targets and scored 1 TD! 1 TD ON 168 TARGETS. Shoutout Patrick Ramsey

(1/22 12:50 AM)

BRotoFantasy: @jlarkytweets We couldn't agree more with this! @BRotoFFCasanova is a stud!

(1/21 10:44 PM)

BRotoFantasy: RT @BRotoFFCasanova: Which receivers do *more* after the catch? I created a xYAC Model using public data to answer just that question for…

(1/21 10:41 PM)

BRotoFantasy: Very excited to announce that @BRotoFFCasanova is officially a part of the BRoto family! We're working on big thing… https://t.co/El1Qwjk44e

(1/21 10:41 PM)

BRotoFantasy: @FF_Casanova Haha never said we agree with the decision! ??

(1/21 7:0 PM)
Thu, 1-21-2021 22:58

Dwayne Haskins reportedly had at least two teams interested in signing him before agreeing to a contract with Pittsburgh.

Thu, 1-21-2021 22:55

New Orleans Saints coach Sean Payton taught Dan Campbell what ideas made his offense elite, and now Campbell is teaching the Detroit Lions.

Thu, 1-21-2021 22:51

It was perhaps the most yearned-for Super Bowl matchup of the past decade, and while a certain high-profile preseason defection all but guarantees that Tom Brady and Aaron Rodgers will never go head-to-head for the Lombardi Trophy, their impending showdown in Sunday's NFC Championship game is a pretty nifty substitute. The convergence of the two […]

Thu, 1-21-2021 22:40

In an exclusive interview, Jets head coach Robert Saleh spoke with SNY's Jeane Coakley about why he chose Gang Green over other NFL jobs. Saleh explains how he is a family person, why people are very important to him, and that he was a fan of how tight-knit and collaborative general manager Joe Douglas and CEO Christopher Johnson strive to be.

Thu, 1-21-2021 22:32

Only one head coaching job remains open and Chiefs offensive coordinator Eric Bieniemy remains waiting. Bieniemy is a candidate for the Texans' job and has strong support from quarterback Deshaun Watson. Washington quarterback Alex Smith, who worked with Bieniemy for five seasons in Kansas City, finds it difficult to believe Bieniemy doesn't already have a [more]

Thu, 1-21-2021 22:31

Jackson is one of several candidates for the Steelers OC job

Thu, 1-21-2021 22:27

As the NFL continues a dramatic change in its stance toward gambling, Washington has become the first NFL team to get a sports betting license. FanDuel and the Washington Football Team have been issued a joint sports betting license in Virginia, according to David Purdum of ESPN. The NFL doesn't allow franchises to directly participate [more]

Thu, 1-21-2021 22:25

When the week began, it looked like Saints defensive line coach Ryan Nielsen would be heading to LSU to become the school's new defensive coordinator. The Saints said Nielsen's contract blocked the move, however, and Wednesday brought word that he will remain with the team. Nielsen signed a three-year extension and added the title of [more]

Thu, 1-21-2021 22:24

MMQB's Albert Breer is reporting that the Detroit Lions have interviewed Pittsburgh Steelers' wide receivers coach Ike Hilliard for their offensive coordinator position.

Thu, 1-21-2021 22:16

Exactly a week since the Jets hired Robert Saleh, they introduced their new head coach Thursday. J??oined by CEO Christopher ?Johnson and general manager Joe Douglas, here are six things to know from Saleh's first news conference.