Fantasy Nation's Accuracy Rankings Contest 2020
By Emil Kadlec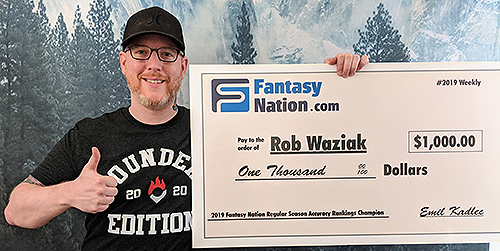 Welcome to season two of Fantasy Nation's Accuracy Rankings Contest. We cordially invite you to participate to help promote your business or personal brand and win cash prizes along the way.

Our fantasy football accuracy rankings include draft rankings and regular season weekly rankings (calculated using PPR). The winner of these two categories will receive $1,000. Also, the top rankings of each skill position (QB, RB, WR, and TE) will receive $100 each within both categories.

We are limiting category experts to the first 150, so please RSVP if you're in!
To get started with your rankings, follow the link below, and create an account.
https://fantasynation.com/ranker/
Here is a help video also:
https://www.youtube.com/watch?v=Sqh9lZZ4bS0

You will have until five minutes prior to kickoff on September 10th to edit your draft rankings.

Please let us know if you have any questions about your expert rankings or if you have any issues with the site. We look forward to hearing back from you.

Sincerely,
Emil Kadlec
505-293-0509 (land)

How to create your rankings:
1. Copy and paste your rankings onto the page or start with generic rankings and drag and drop players where you want them ranked.
2. Make sure to hit the "Publish" button at the top right to save.
3. QBs are in standard and RB,WR and TEs are in PPR for the accuracy awards

Preseason Draft Rankings

QB: 25
RB: 60
WR: 70
TE: 20
PK: 20 (not part of Accuracy Rankings)
DEF: 20 (not part of Accuracy Rankings)

Weekly Regular Season Rankings
QB: 20
RB: 40
WR: 50
TE: 15
PK: 15 (not part of Accuracy Rankings)
DEF: 15 (not part of Accuracy Rankings)


Accuracy Award Methodology
1. Analysts rank their top players for QB, RB, WR, TE that generally matches the number of players rostered in standard leagues
Draft Rankings
- Top 25 QB
- Top 60 RB
- Top 70 WR
- Top 20 TE

Weekly Rankings
- Top 20 QB
- Top 40 RB
- Top 45 WR
- Top 15 TE

2. The lowest rank is given a weight of 1 and it increases linearly for each rank - e.g., QB25 (Draft rankings) is worth 1, QB10 is worth 2.188, QB1 is worth 2.9. This weight is multiplied against the actual PPR points for the player and is then divided by the sum of all the weights. This creates a weighted average per position for each ranker.

3. This number is then multiplied by the average number of starting players in standard leagues to make sure each position is weighted properly:
- QB - 1.1
- RB - 2.4
- WR - 3.5
- TE - 1.2

4. A 'boldness' bonus is calculated for each analyst at each position based on summing the absolute values of their picks vs that of the consensus. So if Ranker A had the consensus QB1 at QB5 and QB5 at QB1, that would equal 8. A bonus of up to 2% the average position score is added based on how far the analyst deviated from the consensus. (In mathy terms, drafting 1 standard deviation or below the average ranker nets a zero bonus. Drafting 2+ standard deviations above the average ranker nets the 2% bonus)

Scoring System

Passing
0.05 points per passing yard
4 point per passing TD
-1 per interception

Rushing
0.1 points per rushing yard
6 points per rushing TD

Receiving
0.1 points per receiving yard
6 points per receiving TD

PPR
1 point per reception

DEF/ST scoring
2 Safeties
1 QB sacks
2 Interceptions
2 Fumble recoveries
6 DEF/ST TDs

5 Offensive Shutout
2 Offensive scoring 1 to 4 points
1 Offensive scoring 6 to 10 points

PKs
1 Extra points made
3 Field goals made



Mon, 8-8-2022 20:05

The Falcons signed TE MyCole Pruitt and waived injured DT Bryce Rodgers on Monday afternoon.

Mon, 8-8-2022 20:03

According to NFL spokesman Brian McCarthy, any trace of the substance in his system would not trigger a positive result under the league's drug policy

Mon, 8-8-2022 20:00

Save the date for Vince Wilfork's Patriots Hall of Fame induction.

Mon, 8-8-2022 20:00

NFL kickers dont see as much time on the field as their teammates. How does that impact their salary and what do kickers make on average in 2022?

Mon, 8-8-2022 19:39

Dolphins wide receiver Preston Williams recently went public with a plea for more opportunities on offense and they could be coming with a different team. Albert Breer of SI.com reports that the Dolphins have had talks with other teams about a trade involving Williams. Breer adds that wideout Lynn Bowden Jr.'s name has also come [more]

Mon, 8-8-2022 19:39

Year 3 will tell us a lot about Tua Tagovailoa. If he excels on a team built specifically to support him, he could become the Dolphins' long-awaited franchise quarterback.

Mon, 8-8-2022 19:38

The deal makes Tucker the highest-paid kicker in NFL history.

Mon, 8-8-2022 19:37

Seattle Seahawks linebacker Cody Barton now sees the pieces of the puzzle fitting together for the new-look defense under DC Clint Hurtt.

Mon, 8-8-2022 19:32

The Rams are getting two young players back to practice on Monday. Los Angeles announced the club has activated running back Kyren Williams and receiver Warren Jackson off of the physically unable to perform list. Williams was a fifth-round pick in this year's draft. He suffered a broken foot during the team's offseason program. In [more]

Mon, 8-8-2022 19:31

The Cowboys will return home from their West Coast trip and practice twice with live fans before their final preseason contest vs. Seattle. | From @ToddBrock24f7