Fantasy Nation's Accuracy Rankings Contest 2020
By Emil Kadlec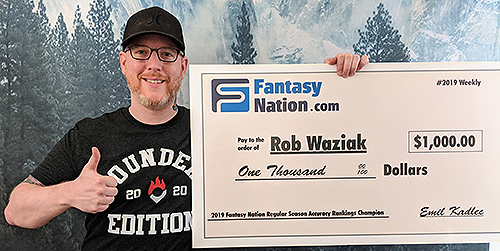 Welcome to season two of Fantasy Nation's Accuracy Rankings Contest. We cordially invite you to participate to help promote your business or personal brand and win cash prizes along the way.

Our fantasy football accuracy rankings include draft rankings and regular season weekly rankings (calculated using PPR). The winner of these two categories will receive $1,000. Also, the top rankings of each skill position (QB, RB, WR, and TE) will receive $100 each within both categories.

We are limiting category experts to the first 150, so please RSVP if you're in!
To get started with your rankings, follow the link below, and create an account.
https://fantasynation.com/ranker/
Here is a help video also:
https://www.youtube.com/watch?v=Sqh9lZZ4bS0

You will have until five minutes prior to kickoff on September 10th to edit your draft rankings.

Please let us know if you have any questions about your expert rankings or if you have any issues with the site. We look forward to hearing back from you.

Sincerely,
Emil Kadlec
505-293-0509 (land)

How to create your rankings:
1. Copy and paste your rankings onto the page or start with generic rankings and drag and drop players where you want them ranked.
2. Make sure to hit the "Publish" button at the top right to save.
3. QBs are in standard and RB,WR and TEs are in PPR for the accuracy awards

Preseason Draft Rankings

QB: 25
RB: 60
WR: 70
TE: 20
PK: 20 (not part of Accuracy Rankings)
DEF: 20 (not part of Accuracy Rankings)

Weekly Regular Season Rankings
QB: 20
RB: 40
WR: 50
TE: 15
PK: 15 (not part of Accuracy Rankings)
DEF: 15 (not part of Accuracy Rankings)


Accuracy Award Methodology
1. Analysts rank their top players for QB, RB, WR, TE that generally matches the number of players rostered in standard leagues
Draft Rankings
- Top 25 QB
- Top 60 RB
- Top 70 WR
- Top 20 TE

Weekly Rankings
- Top 20 QB
- Top 40 RB
- Top 45 WR
- Top 15 TE

2. The lowest rank is given a weight of 1 and it increases linearly for each rank - e.g., QB25 (Draft rankings) is worth 1, QB10 is worth 2.188, QB1 is worth 2.9. This weight is multiplied against the actual PPR points for the player and is then divided by the sum of all the weights. This creates a weighted average per position for each ranker.

3. This number is then multiplied by the average number of starting players in standard leagues to make sure each position is weighted properly:
- QB - 1.1
- RB - 2.4
- WR - 3.5
- TE - 1.2

4. A 'boldness' bonus is calculated for each analyst at each position based on summing the absolute values of their picks vs that of the consensus. So if Ranker A had the consensus QB1 at QB5 and QB5 at QB1, that would equal 8. A bonus of up to 2% the average position score is added based on how far the analyst deviated from the consensus. (In mathy terms, drafting 1 standard deviation or below the average ranker nets a zero bonus. Drafting 2+ standard deviations above the average ranker nets the 2% bonus)

Scoring System

Passing
0.05 points per passing yard
4 point per passing TD
-1 per interception

Rushing
0.1 points per rushing yard
6 points per rushing TD

Receiving
0.1 points per receiving yard
6 points per receiving TD

PPR
1 point per reception

DEF/ST scoring
2 Safeties
1 QB sacks
2 Interceptions
2 Fumble recoveries
6 DEF/ST TDs

5 Offensive Shutout
2 Offensive scoring 1 to 4 points
1 Offensive scoring 6 to 10 points

PKs
1 Extra points made
3 Field goals made



Tue, 12-20-2022 15:07

The Packers kept their season alive by beating two bad teams. The real test for Matt LaFleur's team in this playoff chase is coming on Christmas Day.

Tue, 12-20-2022 14:59

"GMFB" react to the Green Bay Packers win vs. the Los Angeles Rams in Week 15.

Tue, 12-20-2022 14:56

Miles Sanders had just three rushes in the first half against Chicago on Sunday, and Eagles head coach Nick Sirianni admitted he could've taken a better approach. By Reuben Frank

Tue, 12-20-2022 14:55

Evaluating Sam Darnold's performance in the Panthers' Week 15 loss to the Steelers

Tue, 12-20-2022 14:55

New York Giants head coach Brian Daboll explains his new goatee and why he plans to keep it ... for now.

Tue, 12-20-2022 14:49

Gardner Minshew wanted to be a starter when he filled in for Jalen Hurts last season. Will he get the chance against the Cowboys?

Tue, 12-20-2022 14:45

#Chiefs RB Jerick McKinnon provided rookie RB Isiah Pacheco with some sage wisdom after his fumble against the #Texans in Week 15.

Tue, 12-20-2022 14:45

Travis Etienne says Trevor Lawrence is back to having the swagger he had at Clemson.

Tue, 12-20-2022 14:32

The Seahawks are signing wide receiver Laquon Treadwell to their active roster, according to a report by Adam Schefter at ESPN.

Tue, 12-20-2022 14:28

The Packers played a winning style and kept their playoff hopes alive on Monday night. Here are three things that stood out from a 24-12 win over the Rams on MNF.